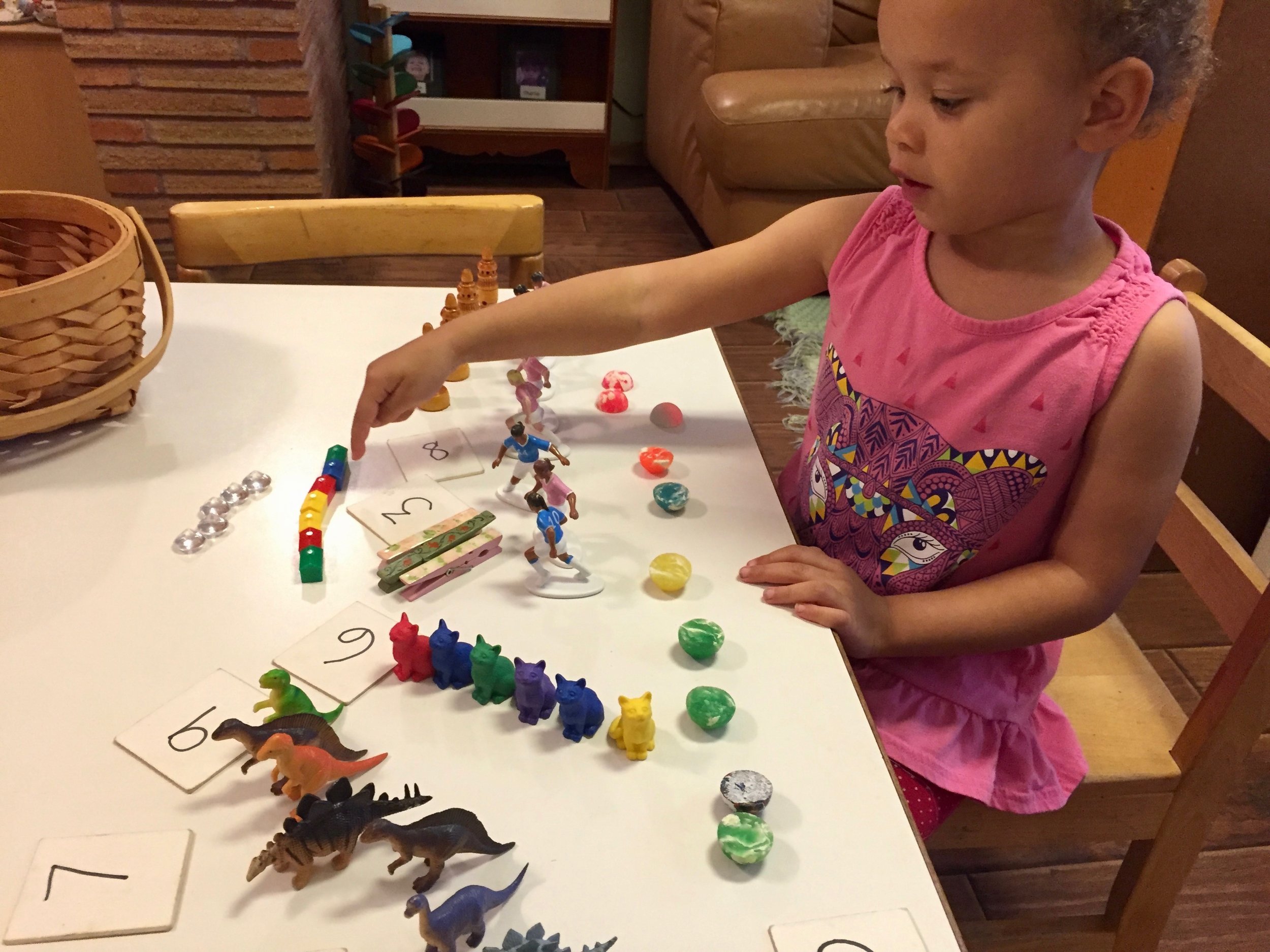 We spend much of the morning in child-led activity time, during which children choose from a variety of developmentally appropriate activities–building, reading, painting, dramatic play, games and puzzles.

A sunlit classroom has shelves filled with exciting materials calling to your child to explore them. We have another room full of art activities and a large room for blocks, trains, movement, dress-up, and group circle time.
Outside
We go outside for a full hour each morning. Some days we walk to nearby Wellington Park and run through the field to the climbing structure and play there. Some days we stay in our own backyard making mud pies, playing in the sensory table, rolling in the grass and playing on the covered patio.

Spring through fall, the children love to get their hands in the dirt as we plant, tend, and harvest the flowers, vegetables and herbs in our garden. We collect snails for observation and watch compost turn to dirt in our worm bins.
Seasonal Rhythm
We follow the seasons with celebrations and projects. In Autumn, we string garlands for the squirrels and visit the pumpkin patch. In winter, we mix our own birdseed to fill the feeders in the yard and have a solstice fire to make wishes for the new year. We trace our shadows on Groundhog day. On May Day, we leave baskets of flowers on our neighbors' door knobs. In summer, we eat vegetables from our garden and watch butterflies emerge from chrysalides.
At Chrysalis we have two formal parent-teacher conferences each year. We also have 15 minutes before pickup time each day when a teacher is available to talk about the childrens' day or answer questions parents may have. We use the Brightwheel app to send you photos and notes about your child. At our frequent parent meetings we discuss topics of interest to parents on behavior, struggles, creating family objectives and more.
After Chrysalis
After spending their preschool years at Chrysalis, our children have successfully transitioned to Arbor School of Arts and Sciences, Catlin Gabel, Oregon Episcopal School, All Saints, and a wide variety of magnet programs, language immersion schools and Portland Public Schools.
A Kindergarten teacher, upon learning I was the director at Chrysalis, told me "I can always tell the children who come from Chrysalis. They are so kind."
—Colleen Strohm, Director and Lead Teacher